Ukrainian teacher in Romania is determined to remove barriers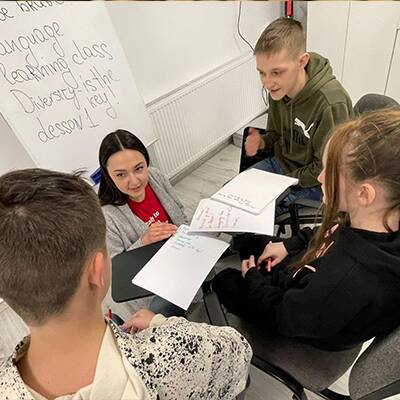 Ukrainian teacher in Romania is determined to remove barriers
Imagine waking up to the sound of sirens and tanks moving down the street – and quickly making the decision to run down to the basement, grabbing only your most essential items. Looking at your older parents who are feeling helpless – stopping your child , 19 May 2022
Natalia was studying English literature in Chernivtsi city, a place she calls 'a piece of heaven.' After the war started, Natalia fled with her five-year-old son, who is now enrolled in a local kindergarten in Romania. With the help of UNHCR and partners, Natalia and her son were able to find a new home in Suceava in north-eastern Romania, at the crossroads of Central and Eastern Europe.

After their arrival in Romania, Natalia had a strong feeling that the biggest barrier that a lot of Ukrainian refugees face is language. She decided to do something about it and started offering free English language lessons to a group of Ukrainian refugees she had gotten to know in Romania. She also started volunteering with different humanitarian organizations to support Ukrainian refugees who had recently arrived and taught in her son's kindergarten as a volunteer and at Bucovina Institute for Social Partnership, in Suceava, Romania.

In her new life in Romania, Natalia found a new way to exercise her passion and says that working together and supporting her community is her prime goal now. She is also volunteering at the warehouse, Humanitarian Center help Ukraine Romania.

Natalia enjoys teaching young children. Her classrooms include young students, women, and men from all age groups. "Sometimes when the mothers come to drop off their children, I encourage them to join the class, and this is how I was able to increase my class from 5 to over 25 students and this number is rising every day," Natalia said. She is in contact with the students virtually who decide to move on to other countries or parts of Romania.

Every day we witness countless examples of refugees who take action and demonstrate solidarity to help their communities. "Natalia is an example of community resourcefulness; she is an inspiring teacher and a humble leader who is eager to help others in need. She is a symbol of hope like many refugees coming to Romania", said Pablo Zapata, the UNHCR Representative in Romania.
"We are grateful to the Government and people of Romania, who continue to welcome refugees in their country and in their hearts and give them the opportunity to continue with their dreams and hopes. UNHCR will continue supporting the inclusion of refugees among host communities in safety and dignity," he added.
Natalia describes the main philosophy of her work. "Everyone has trauma to face the pain of leaving behind their loved ones, but we paint our griefs, express our emotions through poetry, write in colours and learn with courage," she said.

Many of her students flew to other parts of the country, but she talks to them whenever they need any assistance or support. "My efforts, while small, are something I believe can help reduce the barriers and overcome cultural differences."

She is grateful for the support she has received from UNHCR and the Government of Romania. "We do not have to worry about anything, everything needed to conduct the Language Learning Sessions is provided to us in our classroom.

Early support from the government and donors to the Ukraine emergency response has been critical to UNHCR's capacity and humanitarian response activities. Donors including the United States of America, Japan, the United Kingdom, France, Norway, Canada, Italy, Denmark, and Australia are ensuring refugees are protected and supported. Natalia is a natural humanitarian and says that she enjoys volunteering and helping others immensely.