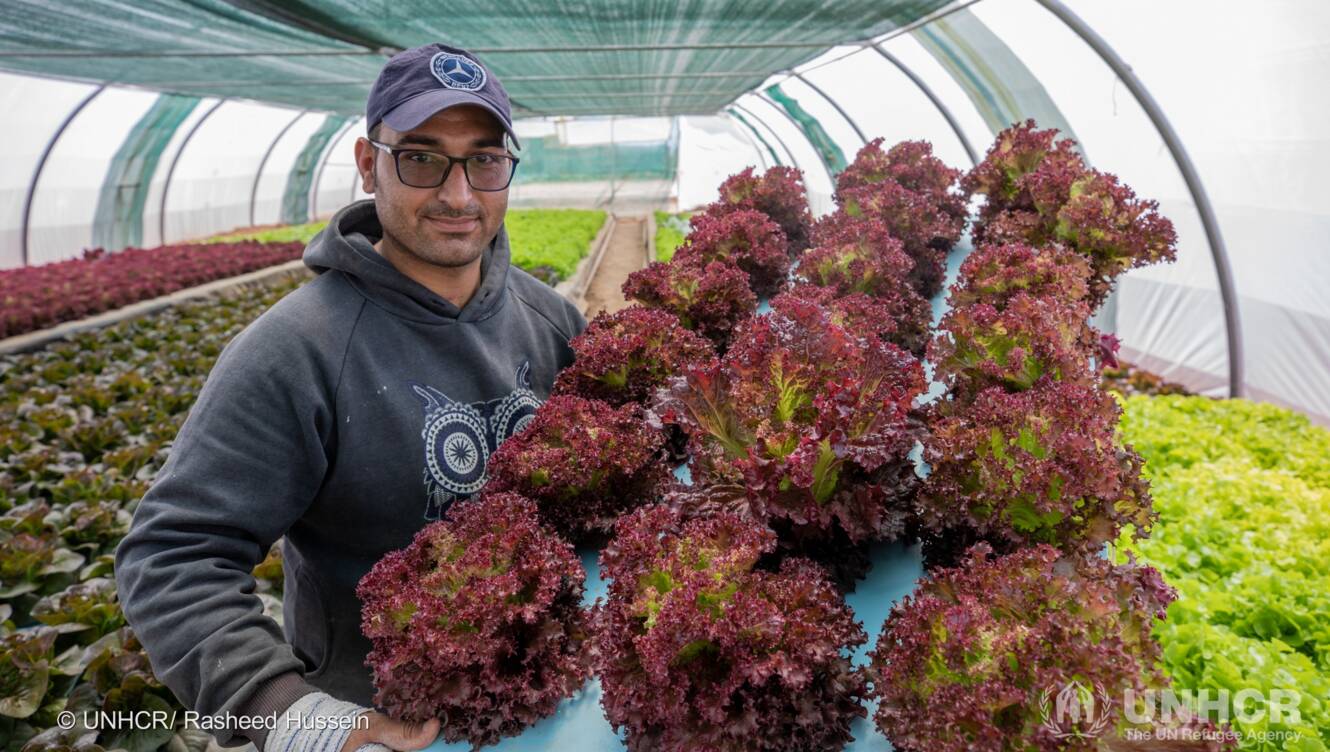 Iraq generously hosts close to 300,000 refugees and asylum seekers, over 90% of whom live in the Kurdistan Region of Iraq (KR-I). There are over 260,000 Syrians, predominantly Kurdish, in addition to refugees and asylum seekers from Iran, Türkiye, the State of Palestine, and other countries. Over 60% of Syrian refugees live in urban areas, while the rest are in nine refugee camps. Over 1 million Iraqis remain internally displaced by Da'esh's insurgency (defeated in 2017), while 5 million IDPs have returned to their areas of origin. There are 25 IDP camps in KR-I, hosting around 180,000 individuals. In areas of displacement and return, many IDP and returnee families continue to face security and protection risks, lack of local integration opportunities, limited livelihood opportunities and financial resources, and lack of civil documentation. Many households face significant barriers to return, especially those with perceived affiliation to extremist groups. UNHCR's Area Based Programming for Protection and Solutions (A2PS) works within specific geographic areas to promote the sustainable (re)integration of those affected by forced displacement. UNHCR identifies locations where refugees, IDPs and IDP returnees live side-by-side with vulnerable host communities and develops projects that support the provision of quality public services through relevant government bodies, in partnership with development actors.
UNHCR Offices and Areas of Responsibilities
The Area of Responsibility Story Map is a visual representation of UNHCR offices operational areas in Iraq, illustrating the geographical distribution of responsibilities and the impact of our efforts in various regions. This interactive map provides a dynamic overview of our organization's involvement and initiatives, showcasing the scope and depth of our commitment to displaced populations across Iraq.
299,877
Last updated 30 Nov 2023
Refugees and asylum seekers population flow
This dashboard illustrates the displacement of refugees and asylum seekers from different countries to Iraq and their geographical distribution among Iraqi governorates, it includes refugees and asylum seekers that have been registered in proGres.
Other Refugees and Asylum Seekers Population Trend
JSON
Registration of refugees (except Syrian) from various countries to Iraq over time
| Country of origin | Source | Data date | | Population |
| --- | --- | --- | --- | --- |
| Syrian Arab Rep. | UNHCR | 30 Nov 2023 | 90.6% | 271,732 |
| Various | UNHCR | 30 Nov 2023 | 3.5% | 10,479 |
| Iran (Islamic Rep. of) | UNHCR | 30 Nov 2023 | 2.9% | 8,589 |
| Turkey | UNHCR | 30 Nov 2023 | 2.7% | 8,087 |
| Sudan | UNHCR | 30 Nov 2023 | 0.3% | 990 |
| Nom du lieu | Source | Data date | | Population |
| --- | --- | --- | --- | --- |
| Dahuk | UNHCR | 30 Nov 2023 | 17.2% | 35,790 |
| Sulaymaniyah | UNHCR | 30 Nov 2023 | 14.0% | 29,208 |
| Erbil | UNHCR | 30 Nov 2023 | 52.7% | 109,809 |
| Anbar | UNHCR | 30 Nov 2023 | 0.8% | 1,692 |
| Baghdad | UNHCR | 30 Nov 2023 | 7.7% | 16,123 |
| Kirkuk | UNHCR | 30 Nov 2023 | 1.1% | 2,232 |
| Najaf | UNHCR | 30 Nov 2023 | 1.1% | 2,361 |
| Diyala | UNHCR | 30 Nov 2023 | 0.4% | 932 |
| Kerbala | UNHCR | 30 Nov 2023 | 1.2% | 2,566 |
| Ninewa | UNHCR | 30 Nov 2023 | 2.4% | 4,913 |
| Basrah | UNHCR | 30 Nov 2023 | 0.6% | 1,245 |
| Babil | UNHCR | 30 Nov 2023 | 0.1% | 164 |
| Missan | UNHCR | 30 Nov 2023 | 0.0% | 73 |
| Muthanna | UNHCR | 30 Nov 2023 | 0.0% | 10 |
| Qadissiya | UNHCR | 30 Nov 2023 | 0.0% | 63 |
| Salah al-Din | UNHCR | 30 Nov 2023 | 0.2% | 517 |
| Thi-Qar | UNHCR | 30 Nov 2023 | 0.3% | 578 |
| Wassit | UNHCR | 30 Nov 2023 | 0.0% | 46 |
| Nom du lieu | Source | Data date | | Population |
| --- | --- | --- | --- | --- |
| Domiz 1 Camp | UNHCR | 30 Nov 2023 | 31.0% | 28,345 |
| Darashakran Camp | UNHCR | 30 Nov 2023 | 12.8% | 11,758 |
| Gawilan Camp | UNHCR | 30 Nov 2023 | 12.7% | 11,616 |
| Domiz 2 Camp | UNHCR | 30 Nov 2023 | 10.9% | 9,970 |
| Arbat Permenant Camp | UNHCR | 30 Nov 2023 | 10.4% | 9,549 |
| Qushtapa Camp | UNHCR | 30 Nov 2023 | 9.4% | 8,626 |
| Kawergosk Camp | UNHCR | 30 Nov 2023 | 8.9% | 8,106 |
| Basirma Camp | UNHCR | 30 Nov 2023 | 2.0% | 1,863 |
| Akre Settlement | UNHCR | 30 Nov 2023 | 1.0% | 956 |
| Bardarash Camp | UNHCR | 30 Nov 2023 | 0.8% | 766 |
1,142,014
Last updated 31 Aug 2023
| Nom du lieu | Source | Data date | | Population |
| --- | --- | --- | --- | --- |
| Dahuk | IOM | 31 Aug 2023 | 21.0% | 240,300 |
| Sulaymaniyah | IOM | 31 Aug 2023 | 11.6% | 132,607 |
| Erbil | IOM | 31 Aug 2023 | 20.0% | 228,914 |
| Anbar | IOM | 31 Aug 2023 | 3.1% | 34,968 |
| Baghdad | IOM | 31 Aug 2023 | 2.3% | 26,634 |
| Kirkuk | IOM | 31 Aug 2023 | 8.1% | 92,664 |
| Najaf | IOM | 31 Aug 2023 | 0.7% | 7,494 |
| Diyala | IOM | 31 Aug 2023 | 3.9% | 44,094 |
| Kerbala | IOM | 31 Aug 2023 | 0.9% | 10,230 |
| Ninewa | IOM | 31 Aug 2023 | 21.1% | 241,507 |
| Basrah | IOM | 31 Aug 2023 | 0.4% | 4,854 |
| Babil | IOM | 31 Aug 2023 | 1.4% | 16,248 |
| Missan | IOM | 31 Aug 2023 | 0.1% | 1,266 |
| Muthanna | IOM | 31 Aug 2023 | 0.1% | 720 |
| Qadissiya | IOM | 31 Aug 2023 | 0.2% | 2,472 |
| Salah al-Din | IOM | 31 Aug 2023 | 4.4% | 50,682 |
| Thi-Qar | IOM | 31 Aug 2023 | 0.2% | 2,094 |
| Wassit | IOM | 31 Aug 2023 | 0.4% | 4,266 |
4,846,062
Last updated 31 Aug 2023
| Nom du lieu | Source | Data date | | Population |
| --- | --- | --- | --- | --- |
| Dahuk | IOM | 31 Aug 2023 | 0.0% | 744 |
| Erbil | IOM | 31 Aug 2023 | 1.3% | 62,058 |
| Anbar | IOM | 31 Aug 2023 | 31.9% | 1,547,730 |
| Baghdad | IOM | 31 Aug 2023 | 1.9% | 94,296 |
| Kirkuk | IOM | 31 Aug 2023 | 3.9% | 191,292 |
| Diyala | IOM | 31 Aug 2023 | 5.0% | 241,176 |
| Ninewa | IOM | 31 Aug 2023 | 40.3% | 1,953,714 |
| Babil | IOM | 31 May 2023 | 0.0% | 1,860 |
| Salah al-Din | IOM | 31 Aug 2023 | 15.5% | 753,192 |
Loading widgets.reliefweb.title
916.95 KB
Download Count: 387

UNHCR Iraq factsheet, August 2023

Date de publication: 13 September 2023

158.01 KB
Download Count: 246

UNHCR's support to the Kurdistan Region of Iraq's refugee response benefiting refugees, Kurdish communities and public service providers

Date de publication: 31 August 2023

1.70 MB
Download Count: 109

Operational Context: Five years after the defeat of Dae'sh in 2017, Iraq has an internally displaced population of 1.2 million and five million IDP returnees. Displaced Iraqis have achieved the same l...

Date de publication: 30 April 2023

12.53 MB
Download Count: 500

3RP Iraq Country Chapter 20223-2024

Date de publication: 8 June 2023

1.47 MB
Download Count: 205

Durable Solutions dashboard - Egypt, Iraq, Jordan, Lebanon, and Türkiye - June 2022

Date de publication: 21 July 2022

The boundaries and names shown and the designations used on this map do not imply official endorsement or acceptance by the United Nations
| | |
| --- | --- |
| Capital | Baghdad |
| Languages | Arabic, Kurdish, Turkmen |
| Population | 41,179,351 |
| Area | 438,317 km2 |
| GDP | 207.89 billion |
| GDP growth | 2.8% |
| GDP per capita | 5,048.4 |
| Gini index | 29.5 |
| Currency | Iraqi Dinar (IQD) |
| Literacy rate | 86 |
Funding Requirements (2023)
239 900 000,00 $US
Total appeal
| | |
| --- | --- |
| Date of Funding Data | 1 June 2023 (6 months ago) |
3RP and UNHCR Partners - 2023
Documents from partners on this portal and views expressed herein do not necessarily reflect the views of UNHCR or the UN