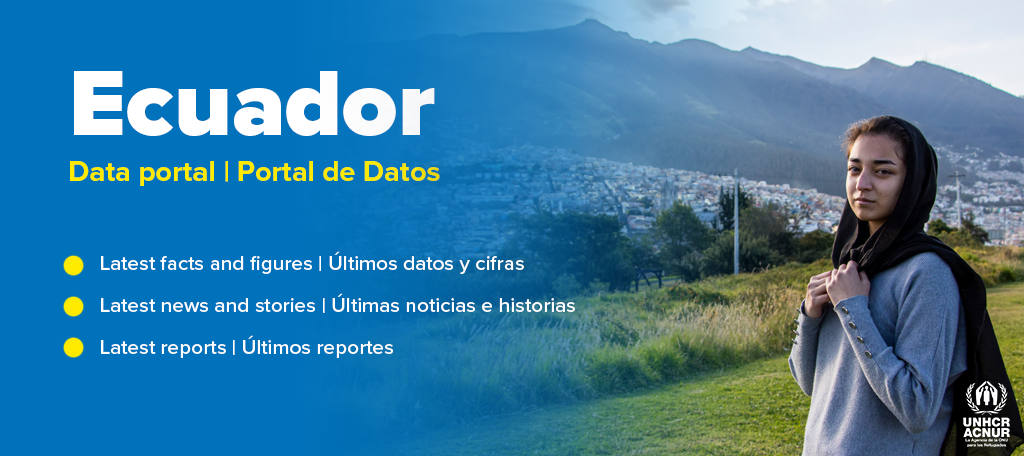 UNHCR, the UN Refugee Agency, has presence in Ecuador since 2000 to deliver protection and promote the inclusion of asylum-seekers, refugees, stateless people, and other people who were forced to leave their countries.
The operation collaborates with national authorities, non-governmental organizations and communities, as well as with the international community present in the country. UNHCR strives to provide a comprehensive and multi-faceted protection and assistance, either during emergencies or with a long-term perspective. The wide variety of activities is mainly are coordinated from the country office in Quito as well as through Sub-Offices in Quito, Guayaquil, and Ibarra, to reach nearly all the Ecuadorian territory. UNHCR also has field offices in Esmeraldas and Lago Agrio, and field units in Tulcan, Huaquillas, Cuenca, Manta y Ambato.
Ecuador is a country of destination and transit for people in need of international protection. Over the past two decades, the country has been hosting one of Latin America's largest recognized refugee populations, the majority of whom fled from Colombia. Ecuador has also become a main destination for Venezuelan refugees and migrants.
Protection Monitoring - 2022 statistics
545,770
Last updated 07 Sep 2023
The source for the total number of refugees and migrants from Venezuela in Ecuador is R4V (Response for Venezuelans). Some of the Venezuelan refugees and migrants may be included in the below numbers of refugees(see also www.r4v.info/es/ecuador).
474,945
Last updated 07 Sep 2023
The historical number of recognized refugees in Ecuador is 75,803 (Source: Ministry of Foreign Affairs and Human Mobility, as of August 2023). In the UNHCR database the following are registered as active:
61,457
Last updated 30 Jun 2023
"Individuals confirmed that have been admitted to RSD processing. The figure includes asylum-seekers whose claims have been denied at first instance and are pending appeal.
9,368
Last updated 30 Jun 2023
El Monitoreo de Protección es una herramienta de análisis de información que el Alto Comisionado de las Naciones Unidas para los Refugiados (ACNUR) desarrolla para comprender la situación y necesidade...

Publish date: 30 March 2023

Este informe contiene los resultados del ciclo de diagnósticos participativos desarrollado por ACNUR Ecuador en 2022. Las consultas comunitarias tuvieron como objetivo comprender las redes de apoyo y ...

Publish date: 31 March 2023

El presente documento es una recopilación sintetizada de técnicas, herramientas y estrategias que se sugieren seguir para la recolección de información cualitativa. Estas técnicas se pueden implementa...

Publish date: 13 February 2023

Funding Requirements Ecuador (2023)
$76,000,000
Total appeal
| | |
| --- | --- |
| Date of Funding Data | 21 February 2023 (9 months ago) |